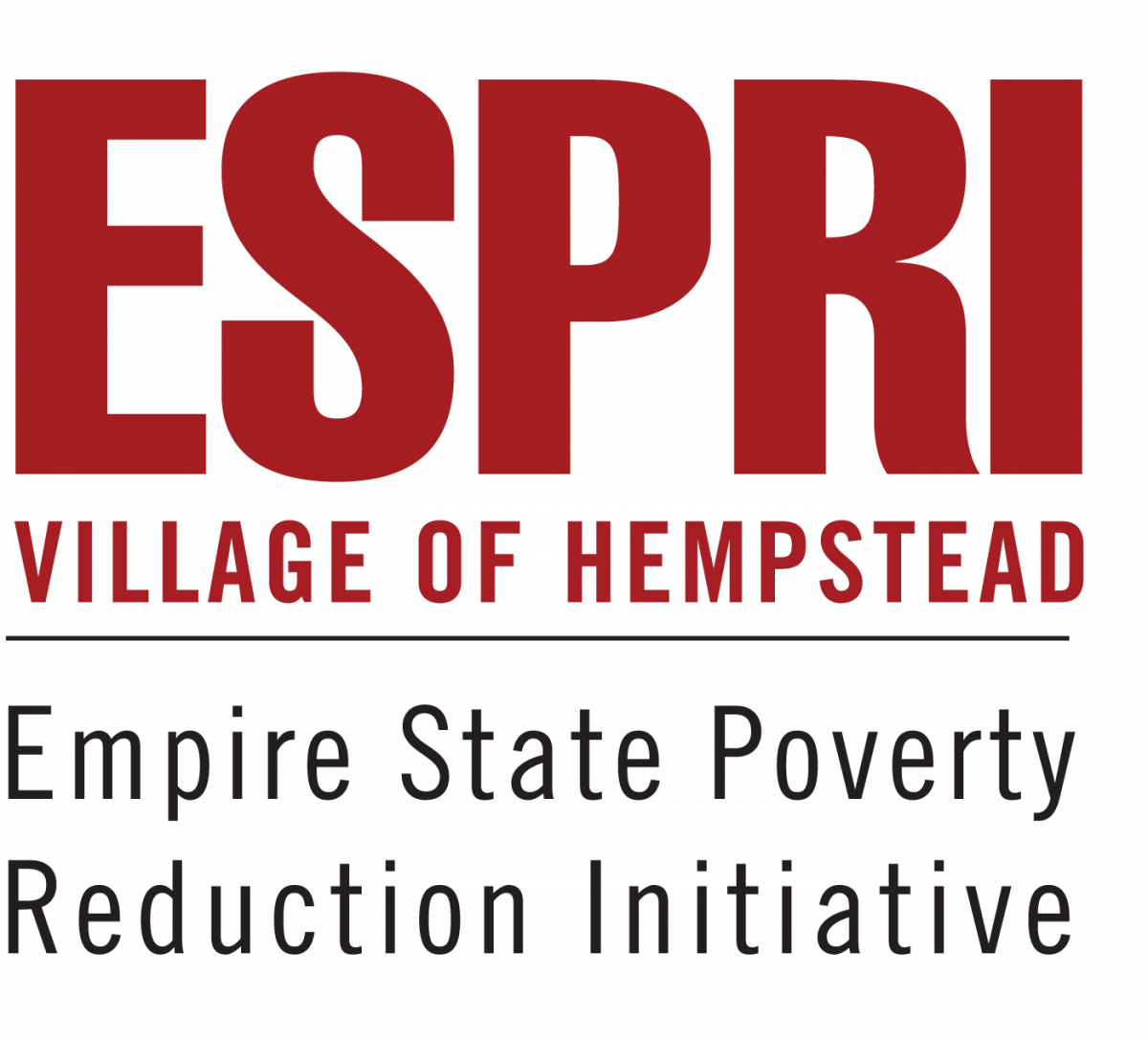 The Village of Hempstead and United Way of Long Island jointly announced today the completion of Phase I of Governor Andrew Cuomo's Empire State Poverty Reduction Initiative (ESPRI). Hempstead Village is one of 16 communities in New York State chosen to be part of the ESPRI program. The completion of Phase I will soon be followed by the launch of Phase II that will ultimately award more than $1 million in ESPRI funding around the Village. 
The ESPRI initiative empowers community members to work together in an effort to reduce the number of households residing in poverty and increase the number of households with earned income above poverty. Phase I of the ESPRI Program was a year-long research and planning initiative, which concluded with the release of a report highlighting the efforts undertaken by the Village of Hempstead and lead organization United Way of Long Island in partnership with a Steering Committee, Task Force and six Workgroups.
Phase I worked to develop six committees that worked together to review the underlying causes of poverty within various facets of the community. With the median household income at $46,675 for a family of four, the committees focused on improvement areas including education, economic and social services, workforce development, the justice system, and health and wellness. The process was guided by input from community leaders, municipal, county and state government; community members impacted by poverty; local social services district, local school district, not-for-profit and faith-based community organizations, employers, workforce services entities, economic development organizations, public safety officials, and health services providers.
This first phase involved the input of nearly 200 people in the region, 150 volunteers who served on committees and workgroups, and more than 1,200 community members impacted by poverty who attended town hall meetings, listening sessions, focus groups and participated in surveys. The survey was administered to 562 Village residents with the intention to get input from people living in poverty and residents who struggle financially. The data analysis presented key findings regarding childcare, annual income, employment and training status, and schooling level. At the conclusion of Phase I, workgroups developed recommendations for solutions that fall within three main focus areas of concentration: Employment & Career Readiness, Youth & Adult Mentoring, and Navigation & Resources.
"The residents of the Village of Hempstead truly rallied behind our work groups, helping them develop real solutions that will reduce financial hardship in our neighborhoods" said Village of Hempstead Mayor Don Ryan. "We are grateful to those in our community who dedicated their time and efforts to help the ESPRI Phase I report come to fruition, giving us a clear vision on how we can create that pathway out of poverty for families who are struggling."
"Over the course of the last year, we have been harvesting ideas and input so that we can deploy the best programs with the best chance for making a real impact in the Village of Hempstead," said Theresa A. Regnante, President and CEO of United Way of Long Island. "It is our goal that through programs developed from the research in Phase I, we will find a concrete way to lead 500 people out of poverty over the next year."
A Request for Proposals (RFP) will be issued for Phase II inviting community-based organizations to submit their best ideas on how to address 10 initiatives that were identified as top priorities based on the needs-assessment survey and working groups.
Funding for ESPRI is included in the 2016-2017 and 2017-2018 state budgets and is provided by the Office of Temporary and Disability Assistance through a contract established with a not-for-profit organization designated by the Village of Hempstead.  Because of United Way of Long Island's extensive history of serving the Village, the organization has been selected as lead organization in this effort.
Learn more about ESPRI and efforts to reduce poverty: https://villageofhempsteadespri.org