A Safety Net of Agencies
WORKING WITH COMMUNITY PARTNERS
United Way of Long Island fights for the health, education and financial stability of every person in every community. We accomplish this through working with our community partners, made up of over 100 Long Island nonprofit agencies. 
Our community partners are at the forefront of responding to Long Islanders in need, and are directly addressing the needs of local residents impacted by the current health and economic crisis. These agencies work with people to address challenges in key areas, including mental health, food insecurity, child care, social services, education opportunities, access to veterans resources and more. 
To help rebuild strong communities and remain a resilient Long Island, contribute to the 
Long Island Impact Fund
, which supports crucial programs and services of our community partners.

COMMUNITY PARTNER AGENCIES 
ACDS, Inc.
Adelante of Suffolk County, Inc.
Adults & Children with Learning & Developmental Disabilities
American Red Cross on Long Island
Ascent: A School for Individuals with Autism
Association for Mental Health and Wellness, Inc.
Baldwin Community House/ BCADA/Baldwin Council Against Drug Abuse
Barry & Florence Friedberg JCC
Boys & Girls Club of the Bellport Area
CancerCare - Long Island Office
Catholic Charities of the Diocese of Rockville Centre
Central Nassau Guidance & Counseling Services, Inc.
Cerebral Palsy Association of Nassau County
Child Care Council of Nassau, Inc.
Child Care Council of Suffolk, Inc.
Choice for All
Circulo de la Hispanidad
Colonial Youth & Family Services, Inc.
Community Development Corporation of Long Island, Inc.
Concern for Independent Living, Inc.
COPAY, Inc.
EAC Network
Economic Opportunity Commission of Nassau County, Inc.
Economic Opportunity Council of Suffolk, Inc.
Eleanor Whitmore Early Childhood Foundation
EPIC Long Island
ERASE Racism, Inc.
Family & Children's Association
Family Life Center
Family Service League
Federation of Organizations
Gerald J. Ryan Outreach Center, Inc.
Girl Scouts of Nassau County, Inc.
Girls Inc. of Long Island
Gurwin Jewish Nursing & 
Rehabilitation Center
Habitat for Humanity of Suffolk, Inc.
The Hagedorn Little Village School 
Harbor Day Care Center, Inc. 
d.b.a. Harbor Child Care
Haven House/Bridges, Inc.
Health & Welfare Council of Long Island
Helen Keller Services for the Blind
Hicksville Teenage Council Inc. 
DBA Hicksville Boys & Girls Club
Hispanic Brotherhood, Inc.
Hispanic Counseling Center, Inc.
Housing Help Inc.
Island Harvest Food Bank
JASA
JCC of the Greater Five Towns (The Marion & Aaron Gural JCC)
L.I.  Against Domestic Violence
La Fuerza Unida, Inc.
Labor Education & Community Services 
Agency, Inc. (LECSA)
Leadership Training Institute (LTI)
Life Enrichment Center at Oyster Bay
Littig House Community Center
Long Beach Reach, Inc. D/B/A Long Island Reach
Long Island Alzheimer's and Dementia Center
Long Island Cares, Inc.
Long Island Coalition for the Homeless
The Long Island Council on Alcoholism & Drug Dependence
Long Island Crisis Center
Long Island Head Start
Long Island Housing Services, Inc.
Lutheran Social Services of New York
New LIFE Center Long Island
Maureen's Haven Homeless Outreach
Mental Health Association of Nassau County, Inc.
Mid-Island Y JCC
Nassau Suffolk Law Services
North Shore Child & Family 
Guidance Center
NYSARC, Inc. - Nassau County Chapter (AHRC Nassau)
Options for Community Living, Inc.
ParentChild+
Port Washington Children's Center
Pronto of Long Island, Inc.
Retreat, Inc.
Rosa Lee Young Childhood Center
The Safe Center LI, Inc.
The Salvation Army Greater 
New York Division
Selfhelp Community Services, Inc.
Sid Jacobson Jewish Community Center
Society of St. Vincent de Paul Long Island
South Shore Child Guidance Center
Southeast Nassau Guidance Center, Inc.
The Suffolk Y Jewish Community Center, Inc.
Timothy Hill Children's Ranch, Inc.
Transitional Services of New York for Long Island, Inc.
TRI
United Cerebral Palsy of Long Island
United Veterans Beacon House, Inc.
Variety Child Learning Center
Victims Information Bureau of Suffolk, Inc,
Visiting Nurse Service & Hospice of Suffolk
WellLife Network Inc.
Woodward Children's Center
Wyandanch Homes and Property Development Corporation
YES Community Counseling Center
YMCA of Long Island, Inc.
Youth & Family Counseling Agency of Oyster Bay East Norwich, Inc.
 
FIND HELP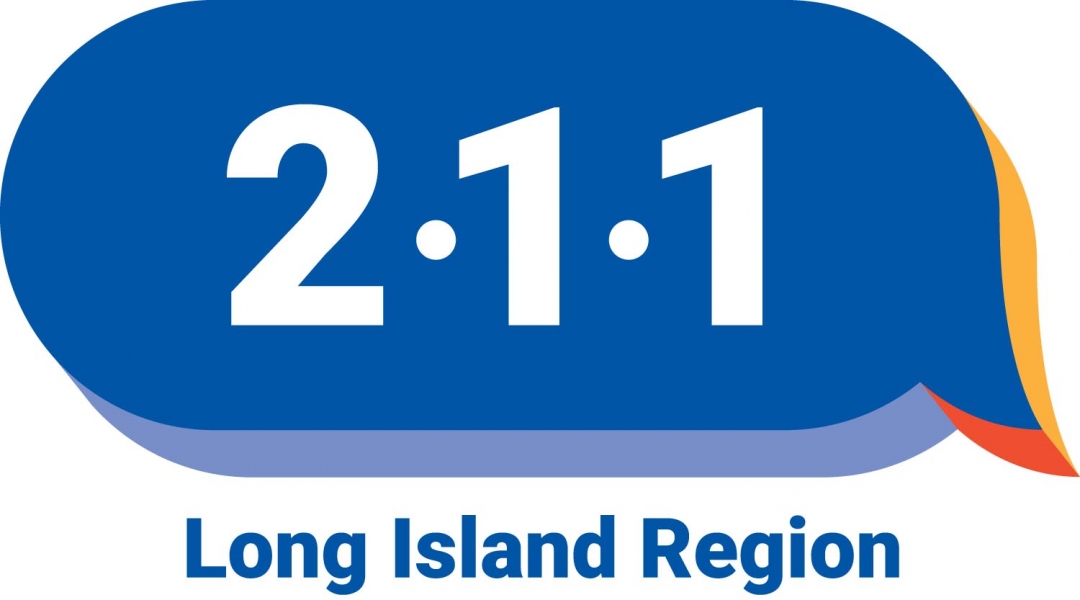 211 Long Island
is a free, non-emergency information service that connects Long Island residents to health and human resources, in Nassau and Suffolk Counties, they may need on a daily basis or during a disaster.
To contact 211 Long Island dial 2-1-1, or outside Nassau and Suffolk Counties 1-888-774-7633, or visit
211longisland.org
.