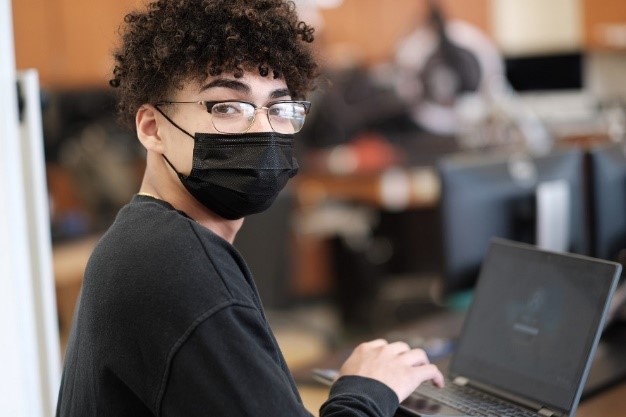 April 1, 2021 (Deer Park) – United Way of Long Island was recently awarded a $30,000 grant from Esquire Bank to assist families who are struggling as a result of the effects of COVID-19.  
Esquire Bank's recent contribution supports United Way of Long Island's United Solution approach to tackling the education, health and economic challenges that many Long Islanders currently face. Brentwood High School students, in need of access to digital technology for remote learning, recently received new laptops. In addition, senior citizens sheltering at home received assistance with managing everyday tasks including grocery and prescription delivery, as well as scheduling their COVID-19 vaccines. The funding also provided help for families facing challenges in paying their home heating bills during winter months.  
"Esquire Bank is pleased to support United Way of Long Island in helping our neighbors who have been impacted by COVID-19 and its economic fallout. Their ongoing efforts to address the most pressing needs of Long Islanders show the true meaning of community and charity," said Andrew C. Sagliocca, President and Chief Executive Officer of Esquire Bank.   
"We are extremely grateful for the generosity of Esquire Bank. Their contribution allows United Way of Long Island to make an impact in the everyday lives of seniors, parents and children who need a bit of hope right now. Together, we are helping families succeed boldly during this time of hardship." said Theresa Regnante, President and CEO of United Way of Long Island. 
United Way collaborates with its network of community agencies who are at the forefront of responding to the needs of people of Long Island to create high impact solutions. 
To support United Way of Long Island, visit unitedwayli.org/unitedsolution.    
If you are in need of assistance, contact 211 Long Island for information and referrals related to support services. Dial 2-1-1, or outside of Nassau and Suffolk Counties 1-888-774-7633 and visit 211longisland.org. 211 Long Island operates 24 hours a day, 7 days a week.   
 
Photo Caption: Esquire Bank supports United Way of Long Island's education initiatives with a $30,000 contribution, including providing Brentwood High School students with laptops for remote learning.  
About United Way of Long Island       
United Way fights for the health, education and financial stability of every person in every community. We recruit people and organizations that bring the passion, expertise and resources needed to get things done.  LIVE UNITED® is a call to action for everyone to become part of the change.  United Way of Long Island is part of a worldwide network spanning across 41 countries and territories, including more than 1,200 local organizations in the U.S. For more information about United Way of Long Island, please visit UnitedWayLI.org, or follow on Facebook, Twitter and Instagram.    
About Esquire Financial Holdings, Inc.  
Esquire Financial Holdings, Inc. is a financial holding company headquartered in Jericho, New York, with one branch office in Jericho, New York and an administrative office in Boca Raton, Florida.  It's wholly owned subsidiary, Esquire Bank, National Association, is a full-service commercial bank dedicated to serving the financial needs of the legal industry and small businesses nationally, as well as commercial and retail customers in the New York metropolitan area. The bank offers tailored products and solutions to the legal community and their clients as well as dynamic and flexible merchant services solutions to small business owners. For more information, visit www.esquirebank.com.