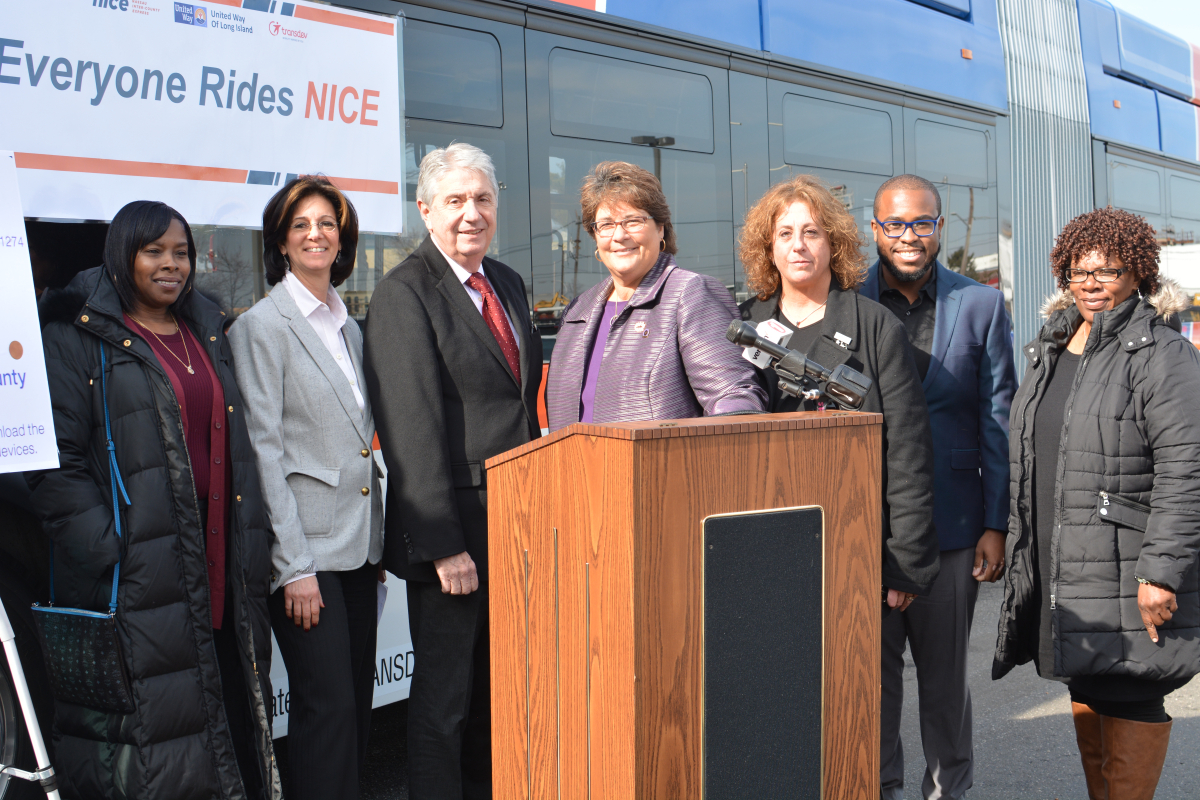 Everyone Rides NICE will be available beginning April 28, 2021.
February 2017 - United Way of Long Island and Nassau Inter-County Express (NICE bus) are partnering to provide low- and moderate-income Nassau County families and individuals with emergency transportation assistance for bus fares.
The program, "Everyone Rides NICE," is a newly established 501(c)3, not-for-profit foundation utilizing an Emergency Transportation Fund of $1.25 million provided by Transdev, which operates NICE under contract to Nassau County.  United Way of Long Island helped design the initiative and is administering the program.
Everyone Rides NICE will provide free Metrocards for use on NICE buses to help eligible riders travel to and from school, work, and facilities that offer medical care and other essential needs. Potential recipients will apply for transportation assistance through a group of six local social service agencies that are community partners of United Way of Long Island.  The agencies will evaluate the needs of individuals, determine eligibility, and provide Metrocards to the riders who qualify for the program.
"This foundation was established to remove barriers to mobility experienced by low income families and individuals," said NICE Chief Executive Officer Mike Setzer. "Accessibility to transportation is essential to quality of life and for many residents with limited resources, the cost of a bus trip can be a drain on their resources. We want to bridge that gap by providing free bus transportation in the form of single-ride Metrocards usable on NICE buses."
"NICE and Transdev are stepping up to fill a need that is often not identified among economically disadvantaged residents," said United Way President and Chief Executive Officer Theresa A. Regnante.  "By working through social services agencies that are already in touch with clients who need help with transportation costs, we can help better the lives of those who are struggling."
Participating agencies are: Hispanic Counseling Center (Hempstead); The Inn-Interfaith Nutrition Network (multiple locations); The Long Island Council of Churches (Hempstead); Island Harvest Food Bank (multiple locations); Choices for All (Roosevelt/Freeport); and Circulo de la Hispanidad (Long Beach).  Additional agencies may be added in the future.
As a 501c3, Everyone Rides NICE plans to actively seek funding from private philanthropists, other foundations, and other sources.