Marie 
DREAMS For Youth Scholarship Recipient
Marie is a strong-willed and accomplished young woman. As a United Way of Long Island
DREAMS for Youth Scholarship
recipient, Marie is ensuring that she puts her education to its maximum use. Not even a year has passed since graduating college and she has already begun a thriving career as an artist, administrator and educator.
Since graduation, Marie has juggled multiple jobs while maintaining her painting practice. She worked as an artist assistant, was a lead visual arts teacher at Westbury Arts Camp, and was selected out of a 300+ applicant pool as an esteemed Downtown Brooklyn Arts Management Fellow. 
Marie currently works for Westbury Arts as their Program Associate and volunteers at Muñeca Arthouse in Patchogue all while running her own business designing and managing art programs throughout Long Island. She hones her skills as a teaching artist; she designs curriculum, teaches and manages art programs for youth ages 4-13 through Westbury Arts and Wyandanch Plaza Association. Most recently, she completed a large-scale, 20x100-foot mural commissioned by Broadway Mall in Hicksville. 
In addition, Marie's art practice is flourishing. She sells and exhibits her paintings on Long Island and in Brooklyn as she completes a one-year artist residency with the Haiti Cultural Exchange.
Marie credits her family and her drive to graduate college debt free with her successful career journey. When she was child, Marie emigrated with her family to the U.S. from Haiti. Education was extremely important to both her and her parents. So when Marie declared that she wanted to study art in college, her mother was adamant about not having to take out loans to pay for higher education. 
Marie was determined to find ways to financially support her dream, not just out of respect for her mother, but because she understood the implications of financial hardship, "Especially in the arts which is a risky move, I'd rather start with a clean slate rather than having a lot of burden."
During college, Marie worked an average of 20 hours per week to support herself financially all the while completing her coursework and internships, which included commuting daily from Suffolk County into Manhattan.
She graduated from the Fashion Institute of Technology debt-free with a degree in Fine Arts, in due part because of the
DREAMS for Youth Scholarship
awarded by United Way of Long Island. "I'm proud of myself to make the most out of those four years because you don't want to just walk out with a paper, you want to walk out with these connections, these contacts, all this experience already."
What's next for Marie? A continuation of painting and teaching. Her future goals include creating original arts programming on Long Island; mentoring young adults about career opportunities in the arts, the financial realities and business aspects of working in the industry; and one day returning to Haiti: 
"Compared to what's available in Haiti and what's available here [in the U.S.] now, I have a really great opportunity. I want to be able to one day go back to Haiti, do art programs, do a residency or something along those lines."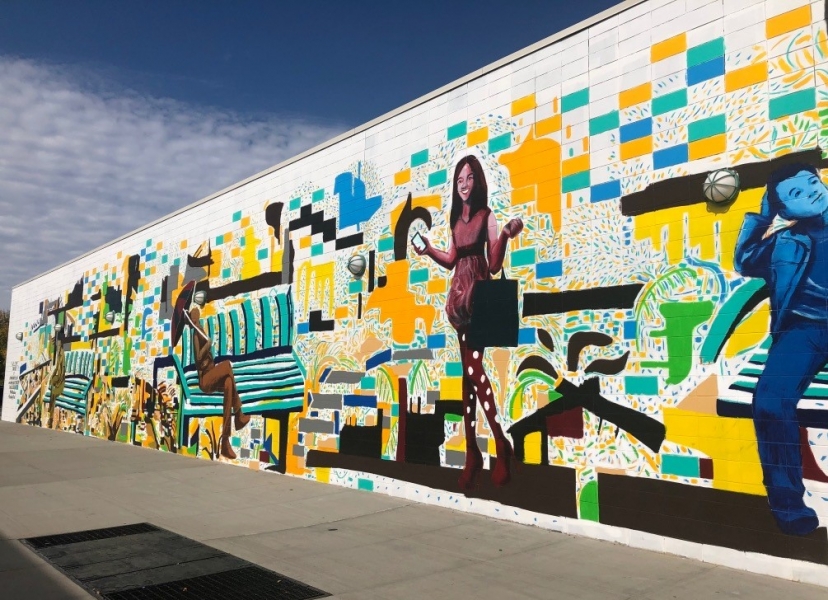 Pictured above: Marie's public mural at Broadway Mall in Hicksville, NY
United Way of Long Island first captured Marie's story a couple of years ago. Learn about one of the ways she applied her DREAMS For Youth Scholarship while studying abroad. 
The DREAMS for Youth Academic Scholarship assists with costs associated with educational goals at a college, university, private or vocational school. Applicants must be in grade 12, demonstrate financial need and a commitment to community service. Financial awards range from $1,000 to $5,000. Since its inception in 2002, United Way of Long Island has awarded scholarships and/or grants totaling more than $1,000,000.