Supporting Thomas – Support Team Mission United 2023
Help Thomas raise $3,000 by November 4, 2023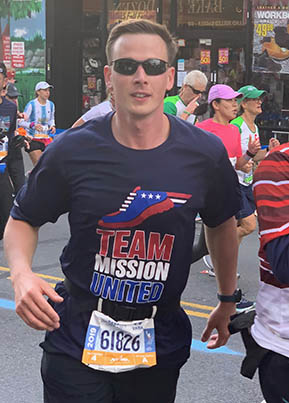 An Army mechanic turned engineer, Thomas works as a Program Manager at CPI Aero in Deer Park and this November, Thomas will run in his third TCS New York City Marathon as a member of Team Mission United. 
When Thomas enlisted in the US Army, he took to running and discovered he had a strong lung capacity. Within months Thomas became the leader of his troop's group runs, setting the pace and keeping his fellow soldiers motivated.
Thomas served in the US Army's 82nd Airborne Combat Aviation Brigade as a helicopter crew chief and an in-flight mechanic for six years. Upon active duty retirement, he continued to serve as a civilian employee on the Army base in Afghanistan. When he returned to the States, Thomas struggled to make his military skills useful in the traditional workplace.
Despite these obstacles, Thomas was self-driven and found a new career path as a mechanical engineer. Today he continues to be self-driven as a member of Team Mission United. He is running to help other veterans acclimate to their surroundings post-active duty.
As he describes, "there's an awkward transition period from military lifestyle to civilian lifestyle. So any organization, such as United Way of Long Island, that supports that transition is a needed resource."
United Way of Long Island is an Official Charity Partner of the TCS New York City Marathon. United Way's Team Mission United is a dedicated group of competitive and recreational athletes who run 26.2 miles to raise funds for Mission United, which supports the 75,000+ Long Island veterans and military members. Since its inception in 2016, Team Mission United runners have raised over $180,000.
 
Mission United is a critical program of United Way of Long Island that focuses on supporting veterans' services. This includes the areas of employment readiness & training, emergency financial assistance, case management support and housing development.